When you are shopping for emergency lighting equipment for your police car, it is important that you are focused on quality and durability of the items that you purchase. These tools are essential to ensure safety and security on the job, giving you the peace of mind to know that you have the necessary equipment that is needed in an emergency situation.
Customizing Your Police Car Equipment
As you are outfitting your police car with the lights and sirens that are needed, you will see that there are a number of different products that you can choose from. This article will highlight some of the most popular and effective products that you might consider, so that you can identify the right things to meet your individual lighting needs.
Our experienced team at SpeedTech Lights is committed to providing you with the high quality equipment that you are searching for. We offer competitive prices and long-lasting durability to keep you safe when you are in the line of duty.
These are the eight categories of lights and sounds to consider when outfitting your police car:
1. Police Light Bars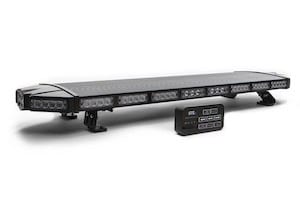 Police light bars are typically the foundation of a safety package for your car. These light bars are useful in a variety of situations, because you can quickly capture the attention of everyone in the area. The light bars are usually installed on top of the police car, although there are other types of interior light bars that can be installed inside the car as well.
Most police light bars come with red, blue, and white lights, although you can customize the LED light bars with different colors if needed. It is essential that the lights are bright, durable and robust, because they are an important tool to use in case of an emergency. Here are a few police light bar options that you might consider:
2. Police Warning Lights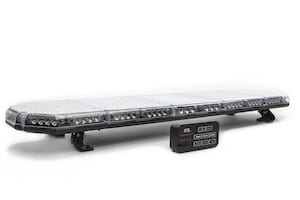 If you are dealing with an emergency situation, then warning lights can be a great way to capture the attention of other drivers in the area. Police warning lights can be used in a variety of ways, especially because these lights are designed to be customizable to match your needs. For example, you can choose the light and flashing patterns that will be most helpful in any situation.
One of the advantages of the police warning lights that we offer is that these lights can be programmed to save your preferences. So, you can automatically turn on the lighting patterns that are needed without worrying about the settings or details on the warning lights. Check out these popular police warning lights:
3. Police Beacons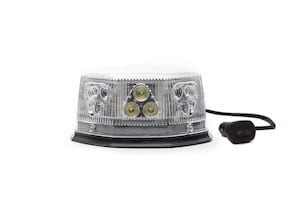 If you don't want to use an entire light bar on your car, then you might consider police beacons instead. These beacons are compact, but don't be fooled by the small size because they offer 360 degree visibility. When you need to notify other people in the area, police beacons are a great option to consider since they are easy to see from any angle. This type of visual warning light rotates using a single bulb and a curved mirror, which creates the rotating beams of light that flash when viewed.
We offer police beacons in a variety of colors and styles, and you can choose the size and features that will work best for your car. These beacons can be installed permanently on the car, or you can choose removable beacons that can be attached as needed. These are some of our most popular beacons:
4. Police Dash Lights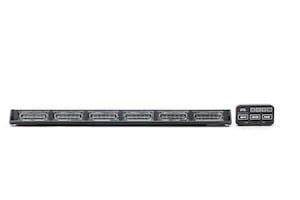 Are you looking for a way to use police lights and still keep your car conspicuous at the same time? Police dash lights are the perfect solution! These light bars are the right size to fit within your car, and they offer the benefits of warning lights without the equipment being mounted on the top of the car.
Choose from the different types of dash lights that are available, to ensure that you have the proper size and colors that meet your needs. All of our interior and exterior light bars can be customized to match the size and requirements of your vehicle. Check out some of our popular police dash lights:
5. Police Visor Lights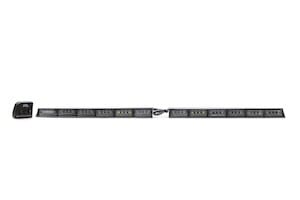 Want to tuck your police lights out of view when they aren't being used? Police visor lights are a great option to consider, because they are easily accessible and they don't take up much space in the car. When you are planning the lighting design for an undercover police car, then visor lights can be very useful.
You might also consider police visor lights if you are looking for a way to add a few more lights to your car. Even if you are using rooftop lights or other light bars in different locations on your car, the visor lights can add one more point of light to increase the visibility of your warning lights.
6. Police Interior Lights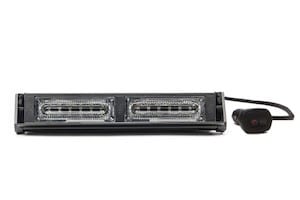 Police interior lights are most commonly used for undercover police cars or any situation where you need access to emergency lighting but you want to minimize the visibility of the equipment when the lights are turned off. Don't think that the interior LED light bars are inferior to the rooftop light bars, because these interior lighting systems are designed to be powerful so that you can easily capture the attention of other drivers in the area.
When you are choosing police interior lights, consider the location on the car where the lights should be installed. Police interior lights can be used on the front and back windows, and there are several different layouts that can be used to ensure that the lights are functional, effective, and easy to use.
7. Police Sirens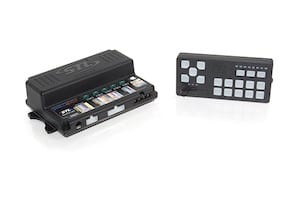 Sometimes, police lights alone aren't enough. If you need to capture the attention of other drivers, then one of the most effective things that you can do is use the combination of police sirens and lights at the same time. By installing the right sirens on your car or truck, you can be sure that your emergency vehicle is heard from far away. The siren notifies drivers that your car is approaching, and the drivers can use their mirrors and windows to identify the source of the siren sounds.
Be sure to choose high quality sirens that offer the right type of sounds that are needed. You also need to make sure that the sirens are built to project the sound effectively. High quality equipment will give you the peace of mind to know that you have a durable system, so that the police sirens are always available to use whenever they are needed in an emergency situation.
8. Police Speakers
Police speakers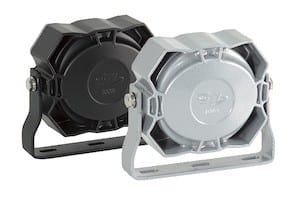 are useful when you need to loudly convey a message or capture the attention of people in the area. These speakers can be mounted on your police car, and they can be connected with your siren system for maximum effectiveness.
These are some of the most popular police speakers available here on our website:
With the right setup, you can utilize police speakers, sirens, and lights to manage an emergency situation and control the flow of traffic in the area. As you can see, there are a variety of products and tools to choose from! You can pick from the different types of police lights and accessories that are available, to ensure that you have the perfect system to use in your emergency vehicle.
If you need help choosing the right police equipment for your car, then we invite you to contact our team here at SpeedTech Lights. We are happy to help you find the equipment that you are searching for!